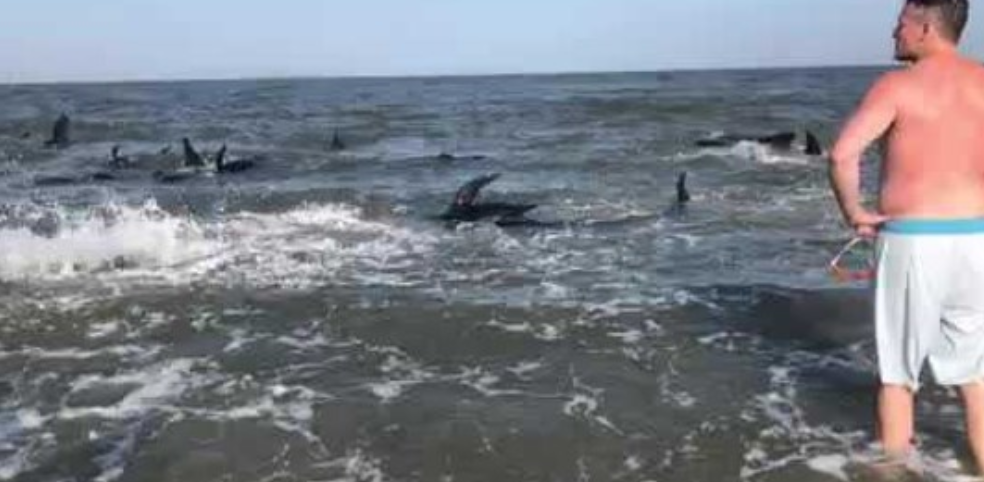 Dozens of pilot whales were rescued after repeatedly beaching themselves on St. Simons Island in Georgia.According to witnesses, more than 50 of the whales beached themselves around 5:15 p.m. Tuesday. It took about 2 hours to get them back to sea. "While stranding is a known natural occurrence, the only thing we can do is to continue pushing them out to sea," said wildlife biologist Clay George.Personnel from various departments including the Georgia Department of Natural Resources, Georgia Sea Turtle Center and the National Oceanic and Atmospheric Administration helped push the whales back out to sea.Two of the whales died, according to the DNR, and will be taken for a necropsy.Officials with the DNR said pilot whales are the most common species known to strand in mass numbers.(Below: Spectacular video of whale feeding next to boat)
GLYNN COUNTY, Ga. —
Dozens of pilot whales were rescued after repeatedly beaching themselves on St. Simons Island in Georgia.
According to witnesses, more than 50 of the whales beached themselves around 5:15 p.m. Tuesday. It took about 2 hours to get them back to sea.
"While stranding is a known natural occurrence, the only thing we can do is to continue pushing them out to sea," said wildlife biologist Clay George.
Personnel from various departments including the Georgia Department of Natural Resources, Georgia Sea Turtle Center and the National Oceanic and Atmospheric Administration helped push the whales back out to sea.
Two of the whales died, according to the DNR, and will be taken for a necropsy.
Officials with the DNR said pilot whales are the most common species known to strand in mass numbers.
(Below: Spectacular video of whale feeding next to boat)